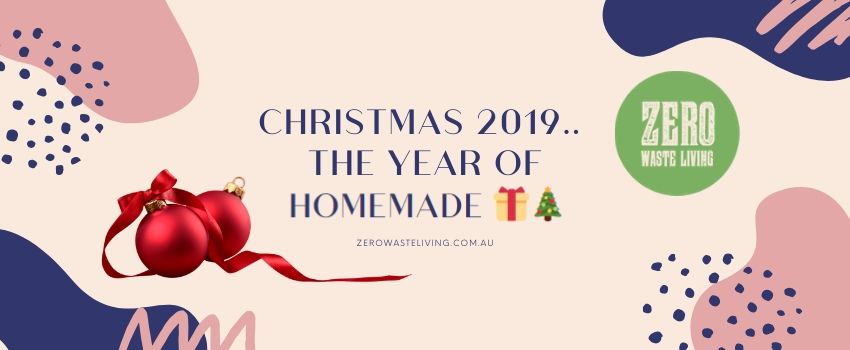 Christmas 2019.. The Year of Homemade 🎁🎄
Is anyone else questioning where 2019 has gone? It's like while we were all asleep one night, some took our year and hit the "fast forward " button 😂
This year we are focusing on Zero or Low Waste, mostly homemade gifts. I have a list of family/friends/work colleagues that I would like to give something to and now I'm working out my plan of attack so to speak.
For those who I do not have a suitable homemade idea for, I will be Op Shopping or scouring the local Saturday markets for what I seek.
Below are the simple homemade ideas that will be on high rotation in my gift giving…
1/ Home baked Bread 🍞 I have a heap of rosemary, basil and oregano growing in my garden currently, so I'll be adding these yummy herbs into the bread dough to give it that special something.🌿
2/ Pickled Beetroot 😋 perfect accompaniment for summer salads during the Christmas season. Here is the to the free recipe I'll be using. https://www.taste.com.au/recipes/pickled-beetroot/7cd01ff9-0fdb-4f96-a6a8-bd387947150f
3/ Rosemary & Peppermint Sugar Scrub. This smells divine and is great for people who work on their feet all day. Rubbing this into their feet and then letting their feet soak in some warm water will have them relaxed in no time 😌 here's the recipe link. https://www.iheartnaptime.net/rosemary-peppermint-sugar-scrub/
4/ Spicy mixed Nuts 🥜 we are a family of "snackers." We graze throughout the day, so mixed nuts are the perfect gift.
https://www.taste.com.au/recipes/spicy-mixed-nuts/2327d843-2be1-47cb-a346-e346ab4f139f
5/ Shea Butter Body Cream. These days Men and Women alike enjoy something nourishing for their skin. This body cream ticks all the boxes ✅ https://www.fairylandcottage.com/single-post/2019/11/17/Shea-Butter-Body-Cream
6/ For Vegan friends I'm making cookies ! Finding cookies that taste great and that are free from all animal products still isn't that easy depending on where you live. And if you do find decent ones, they're normally expensive $$. Making these will have your mates hugging you through to New Year and beyond. https://chocolatecoveredkatie.com/2018/05/21/vegan-chocolate-chip-cookies-recipe/
7/ Washing Liquid. I have been making and using this amazing washing liquid of Rhonda Hetzel's for over 3 years now and it's never failed me. It makes 10 litres at a time, making it the perfect gift to bottle up in reused Jars with some twine and hand out at the Family gathering of relatives that you have no idea what to buy them haha. https://down—to—earth.blogspot.com/2010/08/homemade-laundry-liquid-revisited.html?m=1
8/ Framed Name Meanings.
Do you know the meaning of your Name? Have you ever googled it's heritage? It's an incredibly interesting activity and you'd be surprised how many people love it when you've gone to the effort of searching out the details and making gift out of their name. I op shop the photo to suite the size of the piece of card or paper that I've created the gift on and Ta Da. I truly unique gift.
9/ Basil Pesto 🌿 Tis the Season for Basil in abundance in my garden. This means pesto for gifting 💝 I personally make Vegan Basil Pesto so that it can be fed to most people. Here is the recipe I use.
1/2 Cup Salted Roasted Cashew Nuts
1 Bunch of Basil
1 Garlic Clove
Pinch of Pink Himalayan Rock Salt
1 Lemon, Juiced 🍋
125ml Olive Oil
*Optional Extra if you're used to the taste of Parmesan cheese in your pesto is 1 Tablespoon of Nutritional Yeast*
Put all ingredients into your Nutri Bullet/Food Processor and blitz. Add a little water if you need to make it a bit more liquid consistency. Depending on your personal preferences, you can add a little more garlic, salt or lemon juice. It's all a matter of balance.
Simple and YUMMY 😋
10/ Personalised Edible Treats. Find out what your loved ones really enjoy as a treat to eat and set out to make it for them. My dad loves Melting Moment Biscuits 🤤 So my sister and I always make him a batch. My husband would walk a thousand miles for Choc Chunk Cookies 🍪 so that's what I'll be making him… You get the idea 💡
I hope this little look into my Homemade Christmas has helped you with yours🎄
Make sure you watch out for my next blog post – 2020, big things are happening 😁
Merry Christmas 🎄 Stay Safe and enjoy this season.