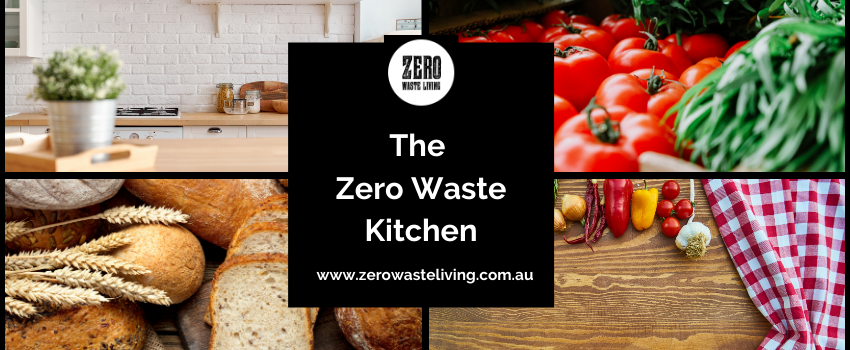 The Zero Waste Kitchen… On any Budget…
I get so many people asking me how I keep plastic out of the kitchen… Truth is, I'm not 100% Plastic Free in this area YET – However, we have reduced our Waste significantly & these are my tips for doing so…
1/ Use up what you have!
Seriously, you know that Garlic Infused Olive Oil that your rich Aunty gave you for Christmas? And that "Moroccan spice " that you needed 1 teaspoon of 6 months ago for a recipe that you just had to try? Time to use them up!!
I use www.taste.com.au ALL the time when I have ingredient(s) that I need to use up & have no idea how to do so. It's free to use & has 1,000's upon 1,000's of recipes for every ingredient I know.
Be adventurous as well – Don't have the 1/2 cup of Red Wine that the recipe asks for? Use Red Wine Vinegar instead. (It actually works!)
Use the fancy Infused Oils for regular cooking – stir fry wilting vegetables in it & TaDa, Dinner 🍽 Add the 1/2 cup of brown rice left in the bottom of the Jar in the back of the cupboard & you've got yourself a hearty meal.
2/ Don't be afraid of "The clearance Shelf" at your local fruit n Veg shed or supermarket.
This can sound controversial because most of the time clearance items come wrapped in some kind of packaging – but, think of it this way – This is perfectly edible food that is going to get thrown into landfill 😱 leaving not only packaging but food rotting & adding to the ever growing waste issue. Instead, you can take that dying 1/2 pumpkin & that bruised tomato & make the yummiest curry , then dispose of the packaging responsibly – to me, it's a Win Win.
3/ Farmers Markets!!!!
I've said this so many times & I'll say it again – if there is a farmers market in your area GO TO IT 🙌 Talk with your local stall holders, encourage them to sell their produce package free & take your reusable's with you.
I remember a couple of years ago I was talking with a stallholderer about how I couldn't buy his strawberries anymore because he packed them in plastic. He looked at me & said "little lady, if I give this plastic free strawberry thing a go, you better buy berries every week from me" Hahahaha… 2 years later he not only is still selling loose strawberries but he is also selling reusable produce bags and has become "hip" to all the millennial shoppers 😂 If you have managed to work your way into eating a "package free diet" or getting there, you'll rarely need to go a anywhere else for any of your grocery needs as most markets these days have Everything from Bulk food stalls for your flours/grains etc to bakers, cheese makers, butchers, fishmongers etc etc… And if your local one doesn't have something you and others are seeking package free, why not explore it has a possible business opportunity for yourself? You just might be the next popular stall!
4/ Seek the glass / Can / Jar alternative.
Seek the glass / Can / Jar alternative to what you normally buy in plastic if a package free option is not currently within your grasp. This can mean going without for a period of time and depending on how committed you are to your Zero Waste Life, you'll deem that acceptable or not acceptable, remember, no one else is living your life, therefore they shouldn't be allowed an opinion on it unless you say so.
If your time poor, then seeking alternative's may come slowly and one at a time, and that's perfectly ok. If you are blessed with some spare time then do what I do when I get the chance and find a recipe for whatever you're currently seeking package free and give it a go at making it yourself.
5/ Use What You Have to Store Your Goods.
Reuse Jars, Containers, takeaway containers that made their way in before your lifestyle change, tea towels, mugs, bowls, plates as covers over bowls – you get the picture…
-If you simply don't have what you need to store all your package free goodness, my first suggestion is ask a friend. Pretty much GUARANTEED they will have excess containers, jars, Tupperware etc in their kitchens that they'll be more than happy to part with.
-Next, Op shops (thrift stores) They're a gold mine, trust me!
-If you NEED something that simply cannot be found with any of the above suggestions, please, choose to support locally owned, locally made businesses first when purchasing new. As a small family business owner, I know the absolute importance of locals supporting locals..
6/ Shop your own Kitchen/Garden first before you actually go shopping.
Sometimes I'm surprised by just how many bits and pieces I have left, different weeks bring different circumstances.
Get creative 🙌 – Last night I needed to make dinner for my hard working hubby and I hadn't planned anything (one of those days) I had a small amount of cooked penne pasta, a few slices of salami, 1/2 a handful of shredded ham, tomato purée, pizza sauce, garlic. I threw it all together, added some herbs and Ta Da, apparently it was delicious 😋 Old me would have high tailed it down to the supermarket and bought way too much food for 1 meal and it would of cost a small fortune and left a huge amount of left over bits to be used up. Instead, all the bits I had came together and fed my hubby and No waste happened nor did big $$ get spent. It was a win win.
Try and make a meal plan based around what you already have and simply fill in the bits n pieces you're missing to create your meals. It will save $$ and waste.
Side Note Tips:
Damp Tea towels wrapped around your veggies in your crisper will keep them fresh longer (just damp, not wet!)
Reused jars with water filled half way up keep herbs and Carrots 🥕 fresh.
Old cereal bags are great to store your homemade bread 🍞 keeps it fresh til its used.
Old biscuit tins that have been lurking in your cupboard because they're too pretty to throw away make great cake storage & look appealing 😉
Line your storage jar or container with a thrifted cloth napkin or face cloth and then put your berries in it to keep the moisture from touching their flesh which keeps them fresher for longer.
Wrap cheese🧀 in a beeswax or vegan wax wrap to seal in the freshness.
Older limp veggies make the best curries, stirfrys, stocks and pies. Chop off any bad bits and dice them all up together- season with your favourite seasonings and ta da, cheap, healthy, yummy food 🥘
Dying Fruit makes super sweet treats – browning bananas becoming scrumptious banana bread. Wrinkling apples become apple pie or muffins. Shriveling berries can be turned into simple sweet sauce to drizzle over pancakes, ice cream etc…
Leave a gap between the contents and the top of the jar if you're placing it in the freezer. You need to leave this to lessen the chance of the glass cracking as the contents expands and contracts with the cold and heat.
Join your local Facebook swap, buy & sell group. If you have excess of anything, advertise that you're willing to swap for something you're looking for. Only the other day a friend of mine put it out there that she was after backyard grown lemons 🍋 she had pumpkins from her own garden to swap – within 5 minutes she had 7 people offering to swap and even asking how much she was selling her pumpkins for lol 😂
Share … The gift of making a meal and sharing it with someone who needs it is truly powerful. You just never know what that simple kind act will do for the person(s) on the receiving end.
The list is endless but I'm sure your head is already full so I'll leave it there for now.
As per usual, feel free to contact me with any questions either on my Facebook page, my Instagram page or at zerowasteliving.com.au (at) gmail.com
You're doing great!