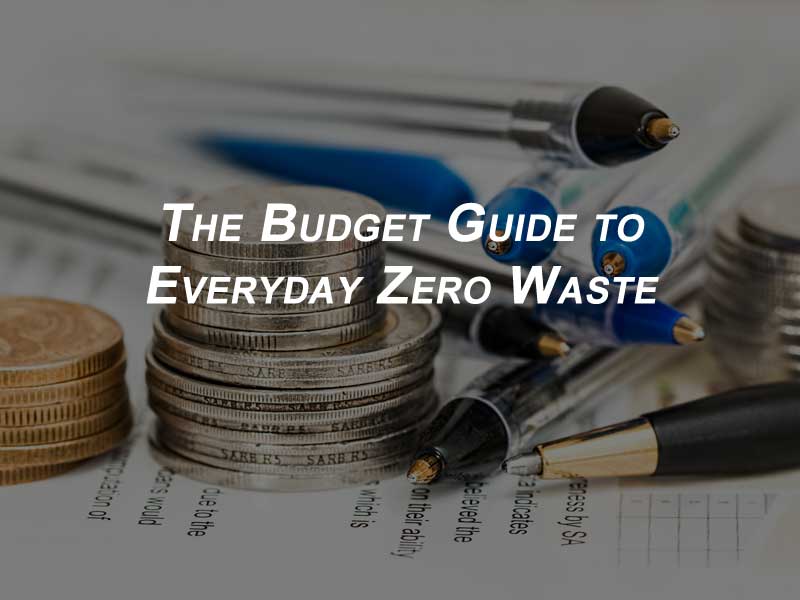 The Budget Guide to Everyday Zero Waste….
If you're on Social Media then you're bound to see countless posts about the latest & greatest "It items" for Zero Waste Success

 haha… Now, while there are awesome products out there, I for one am on a tight budget, doing my best to keep a roof over my family's head, nourish their bodies & unstuff this planet we live on in the process



 Anyone else with me??
Here is short list for those who want to live the Zero Waste basic lifestyle WITHOUT the hefty price tags


You don't need a fancy Reusable Cup for your daily coffee/tea run – a mug from your kitchen cabinet will do – a repurposed glass jar with a lid if you need to transport it in the car ( grab a cloth napkin & tie it around the bottle to insulate it & make it easy to hold) anything that will hold liquid
Repurpose Jars / containers from food items you bring into your home – no need to go out & purchase containers to refill at the Bulk store/Markets/Grocery Store. 99% of my reusable items are simply repurposed from items that were already in my home. I use Repurposed Jars for EVERYTHING haha – freezing leftovers, storing dry goods in the pantry, a vase for flowers, the list is endless & doesn't need to cost you a cent

Cutlery – if you own cutlery in your home then you've solved your issue already – no need for fancy "cutlery kits" – I have a fork, butter knife, and teaspoon all in the bottom of my handbag – only time this doesn't work is for travel, to which I put them in my checked luggage & have snacks prepared in my Jars so that I have no need for the cutlery til I've reached my destination.
Produce Bags = Pillow Cases

 have a look in your linen cupboard, my bet is that there is more than a few odd pillow cases in there, and they're normally made form light weight fabric that doesn't add to the weight on the scales – also, Paper bags are a great low Waste alternative too – I save the bags from our mushrooms & use them for all sorts of things.
Water Bottle – any bottle will do! I know a friend of mine that repurposed a Wine Bottle as her Water Bottle


 she gets the best looks in public when she gets thirsty & needs a drink – especially when her son asks for sip Bahahaha… anyway, like I said, any bottle will do…
Reusable bags = old tops/t-shirts upcycled

 YouTube the " T-Shirt Bag" tutorials – you'll thank me later


Wrapping Paper for Gifts = any paper you have in the house – your kids drawings that are lying around, the wrapping your loo paper came in ( we use "Who gives a Crap" toilet paper, a 48 roll box lasts this home 6 months, and the paper wrapper gets a second life as all sorts of things
Cloth Napkins / "Un Paper towels" = An old bed sheet cut up into squares or an old bath towel – trim the edges & if you can borrow or own a sewing machine, just hem the edges to keep them from fraying & Ta-Da

BONUS TIP * Cat Toys* – The paper tube from your toilet paper roll – a scrunched up ball of paper after its finished with – leaves from the garden – feathers you've found on the ground when walking /hiking, attached to a string on the end of stick… all of these are used in our home on regular basis & our cats are always entertained.

Hope these tips have helped, always happy to answer any questions, shoot me an email or find my on Instagram


 thanks for reading