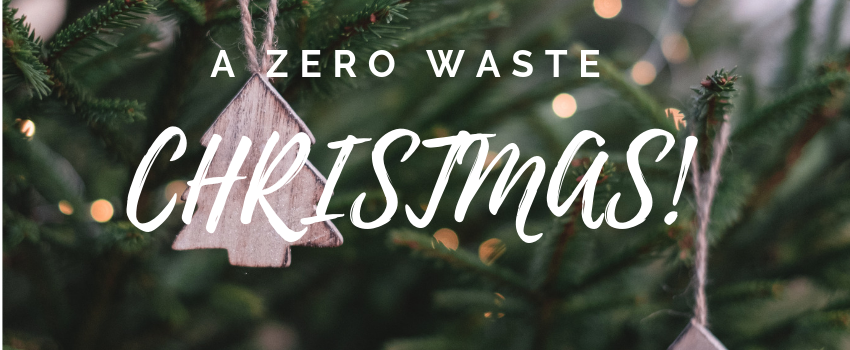 Zero Waste Christmas
Today I read a horrifying statistic: In Australia we spend approx $11 Billion a year on Christmas with $4 Billion worth of the stuff being returned in the week following and another $4 Billion worth being thrown into Landfill. 


 The average return is worth at least $68 
Now, I don't know about you however I cannot fathom spending that much money 
 on stuff, let alone the fact that half of them are either returned or thrown out 

Here are my Top 8 Zero Waste Christmas Tips :
1/ EXPERIENCE OVER STUFF… A National poll found that the average Household here in Australia has collectively over $60Billion worth of stuff in them!!! 

 I mean really?! How about instead of adding to all that WASTE we give experience over stuff…
*For Children I suggest 
lessons for their favourite sport,
tickets to the movies,
concert tickets,
Be a Zoo keeper for a day – the list is almost endless and will suite most budgets
*For Adults
Pretty much the same experiences, just adult versions, it's not hard 

2/ Handmade/Homemade Gifts 
My dad has these "favourite biscuits " that my mum used to make him when I was young – now either my sister or I make them for him every year, along with chutney & rocky road = every happy Dad! Find out what your family / friends enjoy as a treat & set out to make some especially for them, it will mean so much more than a mass produced plastic wrapped item from a big chain store…
3/ Homemade Voucher for Favours/ Services –
Are you naturally talented at massage?
Do you have a passion to bake or cook?
Do you love animals so much that you don't care who owns them you just wanna pet them & hug them?
These are all things you could put on a voucher for a someone eg: "This voucher entitles you to a 1hr massage at a time that suites you" or "This voucher entitles you to 6 cakes baked throughout 2019 of your choice"… You get the idea…
4/ Find out if they actually "need" anything – My Work Shoes are literally falling apart from use. I wear Toms as they're supportive, comfortable & easy to slip on & off (no I'm not sponsored, they're actually that good lol) so I've asked my love to purchase a new pair for me for Christmas 
 Bonus is the giving that Toms gives from every pair purchased. Here is the link to their website if you're interested – www.toms.com
5/ Op Shop first! If you want to actually purchase a thing, Op Shop before you shop. Honestly you'd be amazed what you can find in an op shop, I've managed to find pretty much anything I've needed.
6/ If you can't find what you're after in an Op Shop, Search for a  Locally Made version of that Item in your area. This is always my next option after the above ones. I found a great Bike for my Daughter this year at our local bike shop, it cost slightly more, however supporting a local who has served in my home town for over 25 years means way more to me & to him than supporting the big chain stores. This was done after searching for the last 5 months for the bike she needs (specific for personal reasons) on second hand sites/ Op Shops etc… The decision was not made lightly.
7/ Search Online for Handmade version of what you're after if it's not available locally. This could be a way of making someone's Christmas by supporting them from far away & purchasing their hard work. This comes after all the other options above. Make sure to ask the seller to use Environmentally friendly wrapping for sending the item(s)
8/ Donate money to a Charity in your love ones name 
️ My grandpa does this every year for the whole family. He donates $10 per family member to Compassion Australia. And writes us all heartfelt cards with loving words. It means so much to us.
Hope this helps, all it takes is a little time & thought. Merry Christmas